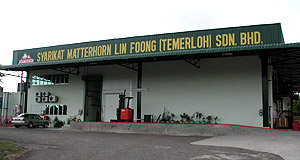 Our company, which was founded by Han Cheok Kuang PJK in 1974, manufactured ice lollies under Syarikat Pembuat Makanan Luan Fong. Before he set up this company, he had been working in Luan Fong Bakery since its establishment in 1950s. Our company founder developed milk based ice cream in the end of 1970s. The quality and range of our products grow significantly since then through continuous product development and improvement.

Syarikat Matterhorn Lin Foong (Temerloh) Sdn. Bhd. is then incorporated in 1981 to spearhead our company business expansion plan. Our ice cream products are marketed domestically and targeted at mass market under brand name of Matterhorn Ice Cream.
The flexibility of our company's production to set up facility enables us to produce our ice cream products according to specific market segment requirements. This specialization is able to suit different countries' market requirements.
Our product range covers ice lollies, milk ice, coconut milk based ice cream with fruit or bean inclusion and ice cream using vegetable fat. All our products meet "Halal" requirement.
Through the years, we strive to achieve our company's primary goal in producing the highest and finest quality of ice cream products. Thus, only high quality raw materials that are carefully screened and stringently tested are being used to ensure product safety and providing absolutely the best for you and your family to enjoy our ice cream products for the years to come.